OVER 100,000 SOLD!
OVER 100,000 SOLD!
Stock BellyBottle
in your store.
Fast moving & trendy product
Low minimum orders
Stocked in 50+ stores
Why BellyBottle?
Every year, millions of women work towards a smooth and healthy pregnancy. Proper hydration has been proven to help improve nutrient flow as well as reduce painful pregnancy symptoms. BellyBottle has helped over 100,000+ women throughout their pregnancies, rated 4.7 stars across 3,000+ reviews.
Who Carries Us?
BellyBottle is currently sold on Amazon.com, BumpBoxes.com, and dozens of other retail stores such as:
ㅤ
- OB/GYN Care Offices
- Govt. Health Programs
- Maternity Clothing Stores
- Prenatal Fitness Studios
Retailer Reviews
3D Ultrasound Studio

5

"BellyBottle was such a great solution for me and my ultrasound clients! I always tell them to drink more water for a clearer picture.. and this bottle did the trick."

OB/GYN Care Offices

5

"It's one thing to tell someone to drink more water, which they rarely do. Providing them with a physical tracker is a great motivator and it's helped many of my patients."

Maternity Clothing Stores

5

"BellyBottle is a strong end cap product with not only personal purchases, but often gifted to others. Would recommend this for any retailer servicing pregnant customers."
Money Back Guaruntee
We are committed to helping you grow and keeping your best interest at heart. If you don't sell all 9 bottles within 3 months, we'll refund your remaining bottles in full.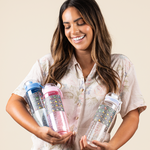 How To Order?
Our team is flexible and works with many different retailers, boutiques, and services. Your business interest is ours and we're willing to grow with you.
ㅤ
Order Today